HARVARD CLUB OF BOSTON, 31 OCTOBER 2005
The IEA would like to thank its partners, European Bank for Reconstruction and Development and International Finance Corporation (World Bank), as well as sponsors and friends for their support in launching the first Ukrainian Investment Symposium. Looking back over the dramatic changes in Ukraine, we believe that 2005 will go down in history as a year of progress for all stakeholders in the region. New opportunities this year are demonstrating that everyone stands to gain from providing business in this region with access to capital. As local officials work together in securing further prominence for their economic interests on the world map, one common objective prevails: that Ukraine should be stable and prosperous. We look forward to working with you in support of this common goal in 2006 and beyond.
The Ukrainian Investment Symposium is based on the successful model of its predecessor, the Russian Investment Symposium, established in 1997 at the Harvard Kennedy School of Government. By request from the Russian Prime Minister, Professor Graham T. Allison created the Symposium to help strengthen economic relations between the U.S. and Russia through practical business and policy dialogue. Dr. Sergei Konoplyov of the Kennedy School of Government at Harvard served as Executive Director of the Ukrainian Investment Symposium.
Participants in the inaugural Ukrainian Investment Symposium included: Konstyantyn Gryschenko, Former Foreign Minister of Ukraine and Former Ambassador to the United States; Volodymyr Ignaschenko, Deputy Economic Minister of Ukraine; Alexei Danilov, Governor of Luhansk Province; Natalie Jaresko, Managing Partner, Horizon Capital; Peter Koelle, Managing Director, HVB Bank Moscow; Jeffrey Millikan, CIS regional manager of Raiffeisen International Bank-Holding AG; Edward Nassim, Director of Central and Eastern Europe, International Finance Corporation; Kamen Zahariev, Country Director for Ukraine, European Bank for Reconstruction and Development. In addition, audience members at the Symposium included representatives from a number of investment institutions, including Bear Stearns, Cambridge Associates, Credit Agricole Group, Credit Suisse First Boston, Draper Fisher Jurvetson, MDM Bank, State Street, Vneshtorgbank, Wellington Management.
2000 - Fourth Annual Russian Investment Symposium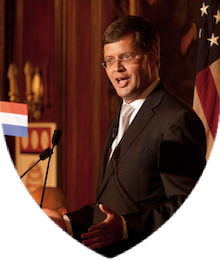 COUNTRY MEMBER PRESENTATION
Heads of State and Ministers present investment opportunities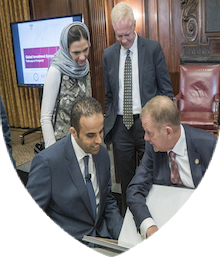 PRIVATE MEETINGS WITH HEADS OF STATE AND MINISTERS
Results-focused discussions on trade and investment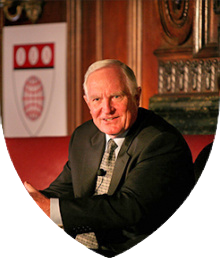 INTERACTIVE BUSINESS DISCUSSIONS
Keynotes on innovation and growth with global business leaders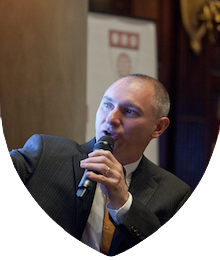 GLOBAL INSIGHTS
The real stakes behind globalization, with Harvard Business School Professors and Academic Partners